One of my 101 goals is to read all of my knitting books.  As I try my hand at knitwear design, I occasional struggle with imposter syndrome and doubt my worth and abilities. I decided I needed motivation and encouragement so I turned to a very reliable source of both – Elizabeth Zimmermann.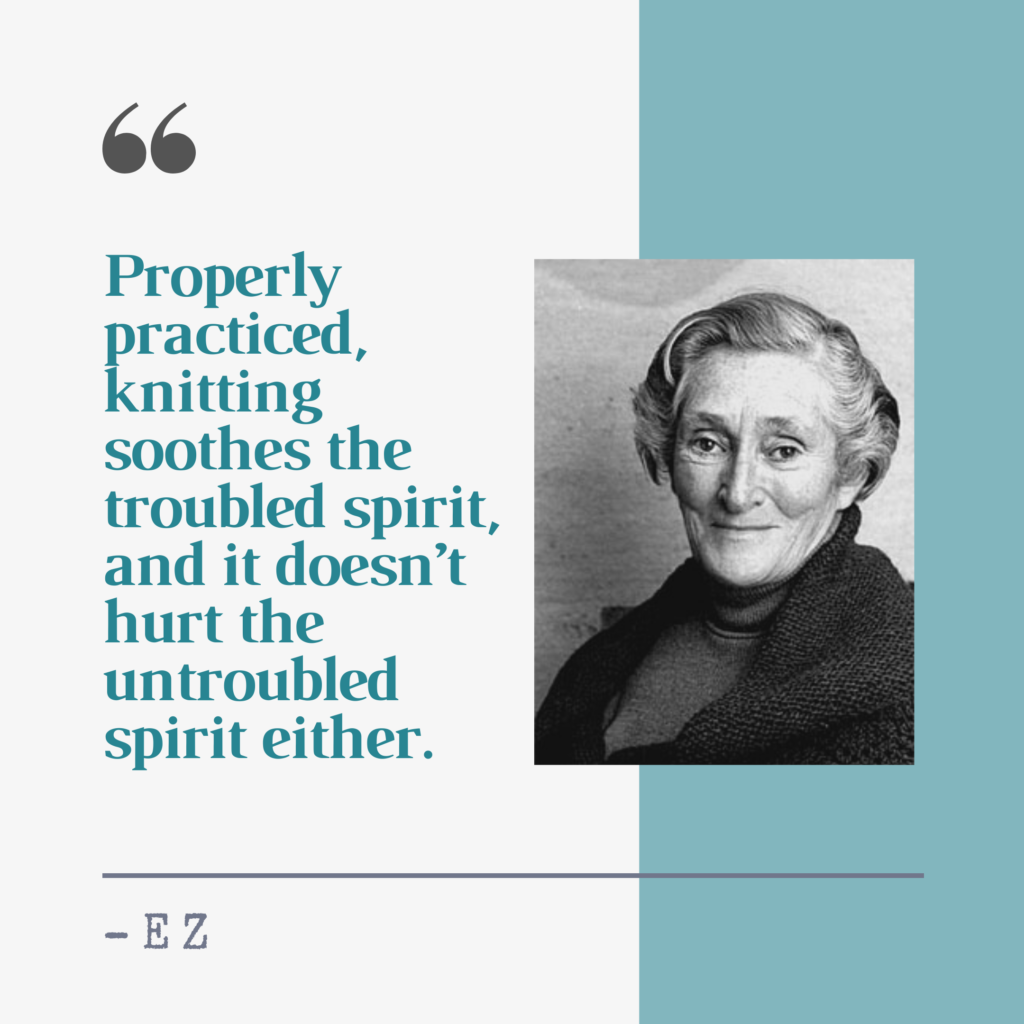 If you don't know, Elizabeth Zimmermann (August 9, 1910 – November 30, 1999) was a knitwear designer, writer, and teacher. She revolutionized the modern knitting by sharing her insights and inspiration through her newsletters, public television series, patterns and books.
Still available today, her bibliography includes:
Knitting Without Tears (1971)
Knitter's Almanac (1974)
Knitting Workshop (1981)
Knitting Around (1989).
The Opinionated Knitter: Elizabeth Zimmermann Newsletters 1958-1968. (2005)
I have been on the road quite a bit lately and thought she would make a good travel companion. I started re-reading Knitting without Tears.  EZ is just as entertaining as the first or second time I read the book. 
The first time I read Knitting without Tears, it was 2007 and I still very much a new knitter. On page 17, I made the harsh realization that I had been twisting all my purl stitch. I was devastated. I was working on a replacement blankie for itty bitty and grabbed my work, held it up and gasped. No wonder my flat stockinette never looked even or quite right for that matter.  Looking back now, it's funny. At the time, however, I was a very new knitter who took herself way too serious. I was crushed. 
Needless to say, EZ's wisdom saved the day.
I doubt Elizabeth had any idea she would touch the lives of so many when she set out to share her passion.
Elizabeth Zimmermann's writing style is casual, informative and light hearted. You can sense her love for the craft and passion for sharing that love in her every word.
I highly recommend Elizabeth Zimmermann's work to everyone. If you haven't read her work, read her work. If you have read her work, read it again. I can guarantee she will put a smile on your face.